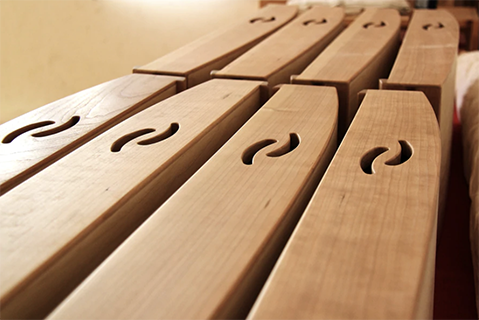 All about feeltone
This month we're highlighting the feeltone Company.
(And no, that's not a typo: feeltone is always written with a lower-case f! :)
We're making a joyful noise with feeltone as the company celebrates its 40th anniversary this year! That's 40 years of honing the craft of fine instrument building. 
Learn all about these gorgeous wood dronal and percussive instruments crafted out the highest quality materials in Northern Germany, and how WE PLAY WELL TOGETHER has brought them to the American Market for music and sound therapists as well as composers and performers. We're now convening an interconnected international network around players of conscious soundscapes so that anyone can experience how to "feel the tone".
What's a Monochord?
A contemporary monochord is a drone instrument in which many strings are tuned to the same note, creating a mesmerizing cascade of harmonics which entrains the inner body rhythms to deep states of relaxation. This is why monochords are beloved tools for music and sound therapists as well as meditation facilitators and yoga teachers.
If you wish to get super technical it's actually a"polychord" with the many strings and more precisely would be called "monotone" - a word which connotes boredom. But if you've heard the melodious overtones of a feeltone monochord you know you experience quite the opposite of monotony: the sound transports the receiver into a blissful and imaginative state of being - with the sound experienced both through listening and physical feeling sensation when the instruments are played under or over the physical body. With feeltone instruments you truly do feel the tone.
The feeltone Monolina is the most most popular monochord model for sound practitioners, because it contains the drone, an octave and major fifth (reminiscent of the Indian Tanpura) plus five tunable melody notes allowing for lilting accents. It's large enough to cover a large part of the body, yet lightweight and portable enough to easily transport for short or long-distance travel in its fitted padded companion bag. Recently, more and more facilitators are including the Monolina in their setups for Sound Baths, Sound Meditation, Sound Therapy, Massage, Wellness, Hospice Care, Music Education for children and more.
What's a Tongue Drum?
A tongue drum Is a pitched percussion Instrument that Is created by cutting out "tongue" shapes into a resonating body. Tongue drums can be made by creating slits Into a variety of different materials (with many current tongue drums on the market are made of metal.) The oldest version of the tongue drum Is carved from wood, however, and a version of this Instrument can be found In ancient cultures all over the world Including Mexico and Mesoamerica, aboriginal Australia, Native American tribes, ancient European cultures and In East Asia.
feeltone handcrafts a diverse line of wooden tongue drums ranging from very small hand-held Tinka Tong tongue drums to XXL Sound Furniture pieces.
What is Sound Furniture?
Sound Furniture are body-sized sound Instruments In which one person sits or lays upon (chair or table form) and a sound practitioner or partner plays the Instrument to relax and sooth the person receiving the sound.
feeltone specializes in producing large furniture pieces utilizing both the monochords (as in the Monchair or Sound Table above) and tongue drums, as well as incorporating them both such as in their signature SoundWave. These Instruments are very effective in music therapy clinics serving well those individuals with severe handicaps as they offer a positive experience of being in the physical body.
Fine Instruments made at the Baltic Sea: 

An Origin Story...
Ingo Böhme is the founder and CEO of feeltone: a self-taught musician, researcher, instrument maker, businessman and entrepreneur.
As a child Ingo had longed to play music, but was frustrated by early piano lessons in his native Germany where he was criticized for playing the "wrong notes." This caused him to abandon music making for many years, until a trip to Idaho in 1982 found him at a festival in the wilderness where he experienced playing intuitive instruments for the first time. Without training, without musical knowledge, he describes the feeling of being carried by the group, playing without thinking, invisibly guided. This was to become his vision, which he passes on with great enthusiasm through his work up through today: intuitive music making.
After reconnecting to music, Ingo embarked on a journey of personal discovery and research into instrument building through the USA, Mexico, Guatamala and Canada. Initially producing wooden tongue drums and selling through wholesale as well as at craft markets, eco fairs, and music festivals, Böhme Music began to also distribute a collection of intuitive instruments from all over the world, including djembes, didgeridoos, gongs, and singing bowls. After the popularity of the feeltone tongue drums with music therapists, feeltone began producing their first monochords in 1997.
By the early 2000's the production of the beautiful Sound Furniture pieces came into being, which coincided with Ingo's collaboration with body therapist Martina Gläser who began developing practitioner trainings for feeltone instruments in the art of sound massage and sound as a bodywork.
This partnership coalesced into a personal relationship and Ingo and Martina married in 2005. The more portable Monolina and Monlini monochords were premiered around 2010 and have become some of the most popular monochords distributed worldwide by partners in different reasons. 
We Play Well Together's founder Gabriele Schwibach began importing feeltone instruments into the USA back in 2000. She and Ingo go way back as both personal friends and business partners who have seen each other through the exciting emergence of sound therapy coming more into the mainstream in North America. 
Ingo now oversees a fine staff and production house in Northern Germany, while his wife Martina has developed nuanced trainings using the instruments. The feeltone company still produces their own gorgeous line of sound therapy instruments while also distributing other artisan instruments in Germany.
For 40 years, Ingo's vision has been to develop and produce instruments and sound bodies that every person, whether musician or non-musician, can play at first go, with which they can express themselves and connect with others. There's no reading of music, no copying - one need only to open up, get involved and experience without judgements of right or wrong. It's deeply healing. This experience can only happen in this moment: the here and now. 
"The most beautiful thing is to see the glow in the eyes when an instrument touches the heart with its sound." - Ingo Böhme 
The feeltone woodshop & production
feeltone's high quality in the construction of Tongue Drums and Monochords is based on decades of experience. They've been building Tongue Drums since 1982 and have continued to develop them over the decades, with a repertoire ranging from the large Bass Tongue Drum to the small Tinka Tong. Each drum is individually made and tuned by hand. 
feeltone has been building and refining their Monochords since 1997. Today, thanks to continued developments, they can offer you various models: from the small Monolinis and Monolinas, which impress with their high sound quality and light weight, to solid "Sound Furniture", such as the Singing Chair, the Monchair, the Sound Wave or the Monochord Table.
In 2015, feeltone expanded their Wood Shop, making the building's frame, floors and paneling of the hall all out of wood, creating a very warm atmosphere. The large hall now includes a machine room, bench and the oil room. The string workshop is also in this building.
For instrument making, the raw planks arrive at one end of the hall, are air dried for years in some cases and go through many steps of processing, refining and finishing. 
.  
The wood is cut, planed and milled in the machine room, then glued, sanded, drilled and -for the slotted drums - tuned. The instrument is then oiled and, depending on the instrument, strung. 
All of feeltone's strings are specially made for their monochords by a professional string maker. In that way, they make sure the sound volume, vibration, and feel/give of the strings work well with the designs.
The instrument then leaves the production rooms, goes to the warehouse and is packed there. The office organizes the worldwide shipping and communication with customers and regional distributors. 
feeltone works in a resource-saving way: due to the different sizes of the instruments, smaller pieces of wood are also used. Their surfaces are organic, as are their materials and to a large extent their packaging does not include plastic. Much of their wood comes from FSC certified trade. Ever evolving, the feeltone company is also constantly developing their existing instruments and researching new instruments, accessories and models. Ingo Böhme and his team have closely worked and collaborated with therapists and musicians, resulting in a variety of intuitive therapeutic instruments appropriate for diverse settings.  
We play well together with feeltone!
We're so proud to be the exclusive North American distributor for feeltone: not only because of the high craftsmanship and beautiful tones, but because of the international musical community that has gathered around the playing of these instruments and the deep meaningful long-term relationships that have resulted from the invitation to simply gather, play whatever feels right in the moment and feel the tone. From a simple friendship between We Play Well Together's Gabriele Schwibach and feeltone's Ingo Böhme, a great partnership was created that has resulted in these transformational sound tools being placed in the hands of so many. We share the love of sound- a great guiding force in these times of great challenge and change.