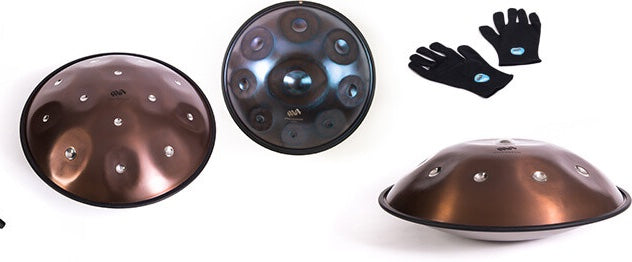 What's the difference between the Metal Sound Evolution and Nitro Spacedrum?
The SPACEDRUM EVOLUTION® is a Stainless steel handpan made handcrafted by Metal Sounds in the South of France 

The stainless steel alloy combined with Metal Sounds' method of manufacture makes the Spacedrum Evolution® a truly unique handpan. In effect, the various handpan makers including the brands: Hang®, Halo®, Yishama®, Asachan®, Spb®, Ayasa®, Shellopan®, etc, offer instruments built differently.


 It's is a handpan with a powerful sound and very rich in harmonics, whose shaped curves provide excellent ergonomics of play and easy transport. Its main assets: it is very easy to play, the tuning is stable, its maintenance is limited with perfect protection against rust (stainless steel) and its design is resolutely modern. The Spacedrum Evolution® line comes in 3 sizes with diameters of 48 cm, 55 cm, and 60 cm. The number of notes ranging from 6 to 13 depending on the models.

The musical modes are diatonic, pentatonic, and even chromatic. Harmonized scales make Metal Sounds handpans intuitive melodic percussions that require no musical knowledge.

Of course, they are very suitable for professional musicians, conservatories, national education, but above all for music therapy, sonotherapy or relaxation.

Technical settings                        

Material: Stainless Steel
Diameters: 48 cm / 55 cm / 60 cm
Height of top & bottom shells: 12,5 cm (5″)
The thickness of the top shell: 1,2 mm
Weight: 3,4 Kg to 5,4 Kg
Number of notes: 6 to 13
Damper: removable rubber profile
Treatment: thermal
Maintenance: homemade Bio natural wax
Deluxe carry bag and booklet included
SPACEDRUM NITRO® – Nitrided handpan
The latest creation of Metal Sounds, the Spacedrum Nitro® is a really versatile handpan! Here the construction method is based on oval notes and dimples (buttons) shapping and the shells are glued together. Most importantly, the steel sheets of 1.2 mm are treated for better resistance to shocks and corrosion (nitriding).


The Spacedrum Nitro® combines all the qualities required of a high-end handpan with a good dynamic range and a balanced sustain. The crosstalk (resonance of the notes between them) is well controlled and the harmonics are easy to play.

Also, the percussive sound produced by the player on the side of the handpan (Tak) is clear while the Ding note stays deep and rather short. Musicians will be able to appreciate the full extent of its possibilities and its unique sound.

In addition, its harmonized ranges and its diameter of 55 cm make it an instrument very easy to approach for novices. Indeed, there is no need to master music theory or practice music to play because of the instrument is accessible to all.

Its bluish-gray hues and satin surface finish make Spacedrum Nitro® a handpan with a refined design. The models currently manufactured have 9 notes (8 notes + 1 DING) or 10 notes (9 notes + 1 DING) and come with a deluxe carry bag.

Technical Settings
Handpan Spacedrum Nitro 10 notes

Material: Row steel
Diameter: 55 cm (22")
Height of top & bottom shells: 12,5 cm (5″)
The thickness of the top shell: 1,2 mm
Weight: 4.5 kg
Damper: removable rubber profile
Treatment: nitrided
Number of notes: 9 & 10
Maintenance: homemade Bio natural wax
Deluxe carry bag and booklet included


Note: the colors can vary a little bit as each instrument is hand-made (and oh so unique!) 
Maintenance: 
Wipe your instrument after each use with a soft cloth and regularly treat the surface of your handpan (dome + bottom) every two weeks with the provided oil.

You can use our provided wax (beeswax & raps oil) or any other handpan oil with a cap cod polishing cloth ...

Clean your instrument with alcohol every 3 months to remove the layer of successive deposits of cleaning products that eventually alters the sound of your instrument.

Do not store the instrument inside the bag for extended periods of time if your environment has high humidity. The condensation that can happen will discolor the surface finish of the handpan. 

Don't hesitate to contact us if you have questions.

Ready To Shop? 
Metal Sounds: Handpans, Zenko and Zenko Elemental's
View All