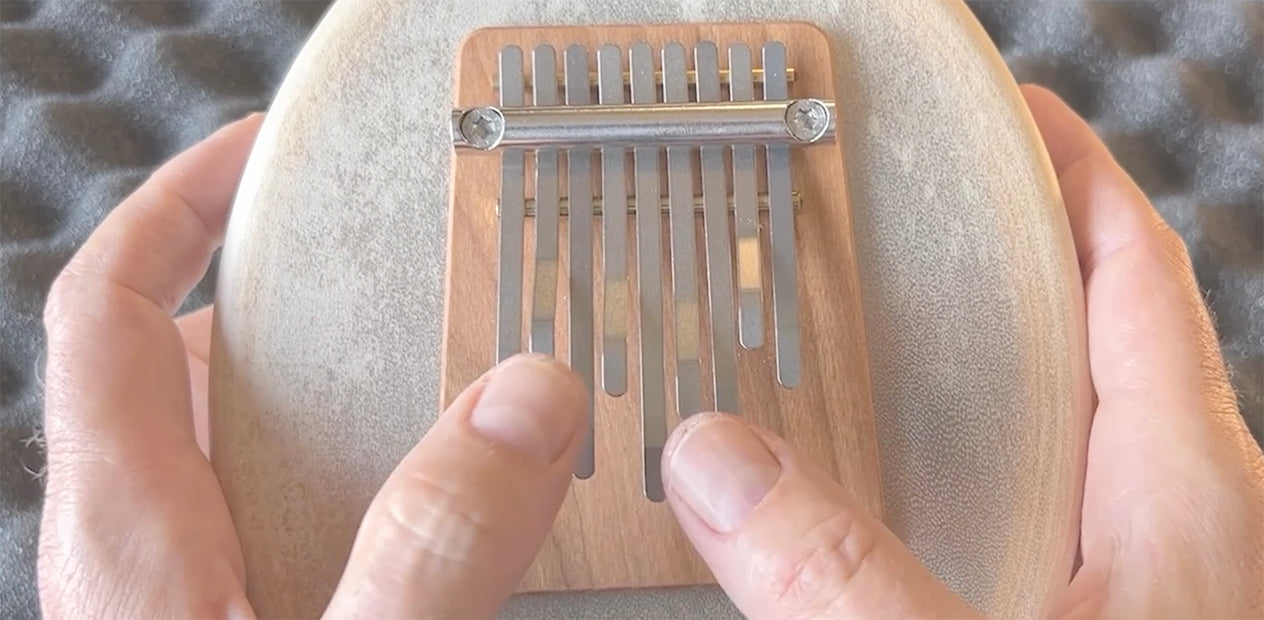 Play a Tango Rhythm Sansula with Composer Matt Levine!
We're proud to have collaborated over the years with many incredible music composers who find our instruments - with their unique sonic qualities including tone, timbre, harmonics, natural acoustic sustain and effects - to offer complexity, nuance, and sonic beauty to their original compositions.
It's always thrilling to us when composers and multi-instrumentals who already have massive instrument collections are surprised and delighted working with our instruments! Our friend Matt Levine just added the Hokema Kalimba Sansula Deluxe to his compositional toolbox.
He made us this fun tutorial video showing us how he personally approaches the Sansula, how anyone can instantly make music with it, and how playing the two rows of metal tines are for him like the "inhale and exhale" of each breath. He then demonstrates playing the Sansula (tuned to A minor) with a tango rhythm.
Matt demonstrates that the limited 9 notes of the Sansula Deluxe by Hokema  creates a musical structure in itself such that anyone who has thumbs can pluck the tines to send them vibrating and create melodies. Yet by adding a specific rhythm, a specific composition is created - and there's an endless variety of rhythmic patterns that can be learned and played on these unique and inspiring instruments. 
Matt Levine is a San Francisco based composer who divides his time between teaching at the San Francisco Conservatory of Music, and developing sound immersion applications. As an accomplished composer and producer of music for video games, film, television, and other pictured media, Matt possesses the unique ability to compose memorable themes across a wide range of genres and has cutting edge technical skills. His resourceful and collaborative approach have earned him a stellar reputation among producers and directors. Matt created his own production company: Uncle Vector's Audio Lab LLC in 1998,  which is still going strong today. Over the years he has composed and produced music for a wide range of artists, developers and corporate clients, served as the Director of Audio Production at Beatnik Inc., worked for over a decade on the team of the Music Department at Sony Computer Entertainment America (SCEA), and in 2019, Matt released Tone Pool, a sound immersion app Mfor iOS and Android. (Learn more at Matt Levine Music) 
Give Matt's video a watch and try the tango rhythm on your Sansula! (and tell us how this was for you :)