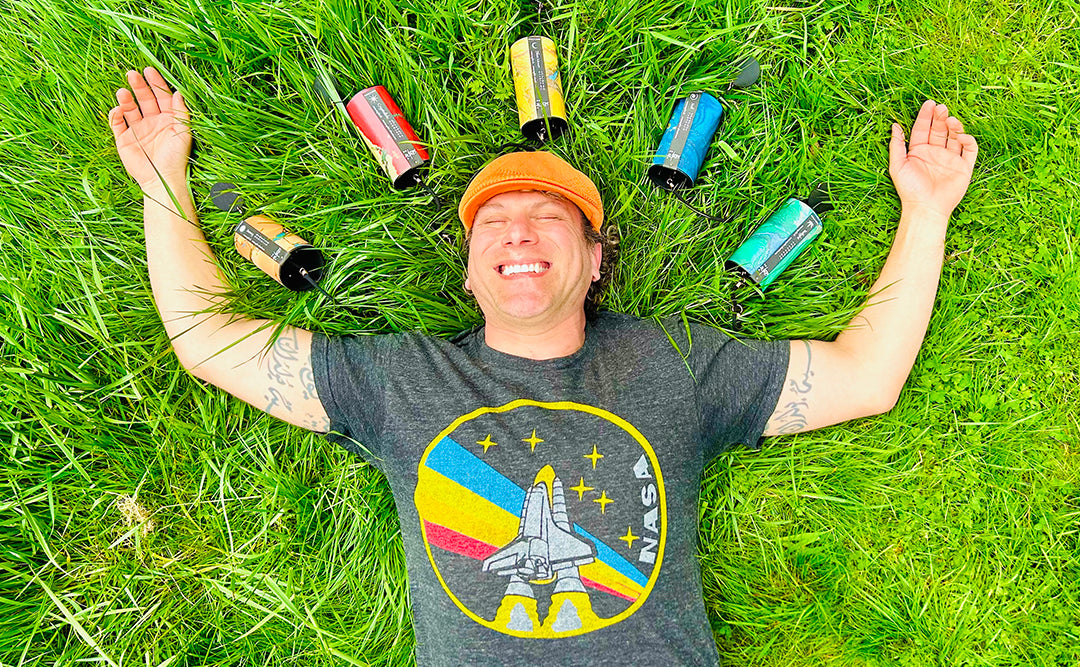 WELLNESS PERCUSSION: Self-Care Summer School with "Teacher Brandon" FREE INTRO CLASS!
Did you miss our live FREE INTRO Webinar?
WATCH THE REPLAY!
Self-Care Summer School with "Teacher Brandon"
Just Wow. We were amazed and thrilled by Brandon's Free Intro to his Self-Care Summer School yesterday for a couple reasons: 
1) Brandon was absolutely fantastic and in top form leading the live group through a sequence of BODY PERCUSSION that anyone could do regardless of whether you have instruments or not. (And he also taught WPWT's Joule L'Adara how to play a drum groove on a Sansula :)
2) Everyone who joined the live Zoom STAYED ON THE ZOOM UNTIL THE END. This is unheard of! We expect for a free intro webinar that some folks will casually drop in and drop out. But no one did - people came and stayed (and the live chat was super engaged). We're so proud of this fabulous free content that will have you moving and tapping along, feeling better about yourself and the world for this one hour class. We highly encourage you to watch and participate along with the recording if you missed the live version (or watch again if you were there :) 
Our Brandon's WELLNESS PERCUSSION Self-Care Summer School is closed for this summmer, but contact us if you are interested in atteding the next Class with Brandon.
Q & A
Here are some Questions that came up during the webinar: 
Q: How can I access Brandon's Album?
A: "It's Bonus Time" by Brandon Blake on all Streaming Platforms!
Here's the link to hear it on Spotify
Q: Where do I access Clubhouse?
A: CLUBHOUSE is a social media app: download from your app store to smart phone or tablet. The Sounding Circles House hosts the Kalimba Campfire live on Clubhouse every Wednesday at 8pm PT (11pm ET) Join the house: https://www.clubhouse.com/house/sounding-circles
Q: Which Sansulas are Joule and Brandon playing in this video?
A: Brandon is playing the Sansula Basic (with a black ring around it and a paper head) Joule is playing the Sansula Deluxe with a goat-skin head. (There's also the Renaissance with a synthetic head.) The default tuning is A-minor however you can order the Sansula in any of the Koshi-Chime tunings or have one custom tuned to match your instruments. Shop Sansulas Here
Q: Can you tell me about the platform for your Sansula? It is a black circular pedestal?
A: In this video Joule is using the fitted Sansula bag made by Hokema for the instrument: it's padded inside to carry the instrument safely and you can use it as a platform for the perfect "Wah-Wah" effect (which is the sound produced by the Sansula by opening and closing the back of the instrument against a solid surface). Brandon is using a mouse pad on top of a table for his Sansula.
LIVE CHAT FROM THE WEBINAR on June 25th, 2023:
That song was hot fire!
Where are you joining us from today?
Hello from California, near San Francisco
Hi from Greater Manchester, England
Hello from Berlin. :)
Hello from NJ 🧡
Hello from Colorado!
Greetings from SoCal, near San Diego!
joining from san Francisco
Aloha from Maui Hello from NY! 💜
Hello from Ottawa, Ontario!
Hi Linda from Raleigh Hello from Atlanta!
hello from northern germany
Hello from Orange County, California
Ciao!
From switzerland
Woo! Happy to be here from New York with gratitude for you!
Hey, from Toronto Canada Great setup Brandon
Hello from South Africa
Hey there, here from San Francisco!
Los Angeles
Hello from Galena Illinois
What's your favorite instrument?
Saxamaphone
monochord
koshi chimes
Cello
Hokema B9 Kalimba
love the monochords
zaphir chimes are beautiful
Gotta love some strings, cello maybe
Himalayan Sound Bowls
Sansula
I enjoy listening to Kalimba
I love every instrument they each light me up!
Gongs, monolina,…bowls, but i have percussion instruments and want to learn how to play them.
I have a Sansula Deluxe not even take out of its bag yet.
I enjoy my handpan most
Hi everyone from Austin Texas! Great job Brandon!
Asking to pick a favourite instrument is like asking me to pick my favourite child! I love them all.
Frame drum, gong, chimes - a few of many that speak to me.
Thank you for loving animals!
Me too!! Same story my mom wouldn't buy me a drum set lol Brandon!!!!!!! 💝
🥲 the elephant vision is AMAZING
Campfire is coming to life!
yes indeed so cool to see Brandon in action and see how all the different rhythms are created the wizard of sound and movement in action 👏😇💃🏽
yes!!!
wow yayayla! Hey Joule!
Am I the only Brit here?
Joule's monochord training is EXCELLENT
I think I'm the only Canadian.
I am Irish living in New York
I'm in Alberta
very cool A minor
I have the A minor one; not the Saunsula which has the drum on. The quality and sound is incredible and so easy to pick up.
Cool!!!!
I literally just added the Sansula to my "Weplaywelltogether" cart.
Absolutely lovely
Brandon's album is absolutely terrific
yes so true it is so fun to see how Brandon is creating the sounds we have been enjoying for years..
I just tried muting only one side then the other - interesting.
Still sounds epic!
This is everything.
I'm doing it now! 🤩
This is truly amazing!
I am so excited to attend the course soon
Super excited for the classes!!!!
I. CANNOT. WAIT! T
hank you for this wonderful introduction today
We had so much fun! thanks Brandon!! Love ya!!
💃🕺
Looking forward to tongue drum….in the course…got a bargain floor model last night…Ionian….on the website Love this!
Can't wait for the class.
Thanks Brandon!
Yay! Thanks sooo much this was fantastic Brandon and Joule!!
Love this!
Thank you Brandon and Joule!
I am looking forward to the next six-weeks! can the SF Bay Area folks connect for a play session at some point?
You are a special gift to this world, Brandon 🙏🏼 This was so amazing….
Thanks Brandon! Xoxo
I want a Sansula.
lets see if we can organize this a meetup with the SF area that would be fun
You won't regret it if you buy one. T
hey give such a beautiful sound
Yes clubhouse and monochord monday have been a life line during the pandemic and beyond learned so much from all of you
Clubhouse has definitely been that type of social media… real family type connections!!!! 💝🎶🎉
we see you! thank you for the great welcome ☺️ Thank you teacher Brandon!
This time was so magical
All BonusTime with Teacher Bando is magical!!!! 🥰 🥳
Thank you Brandon great class!
Great job, Brandon!! ❤️ thaaaaaaaaaaaaaaank you! loved!
Blessings! thanks everyone!!!!!!!!!
Thanks again!! 🎶💓💗👏👏👏💐🎉 💝