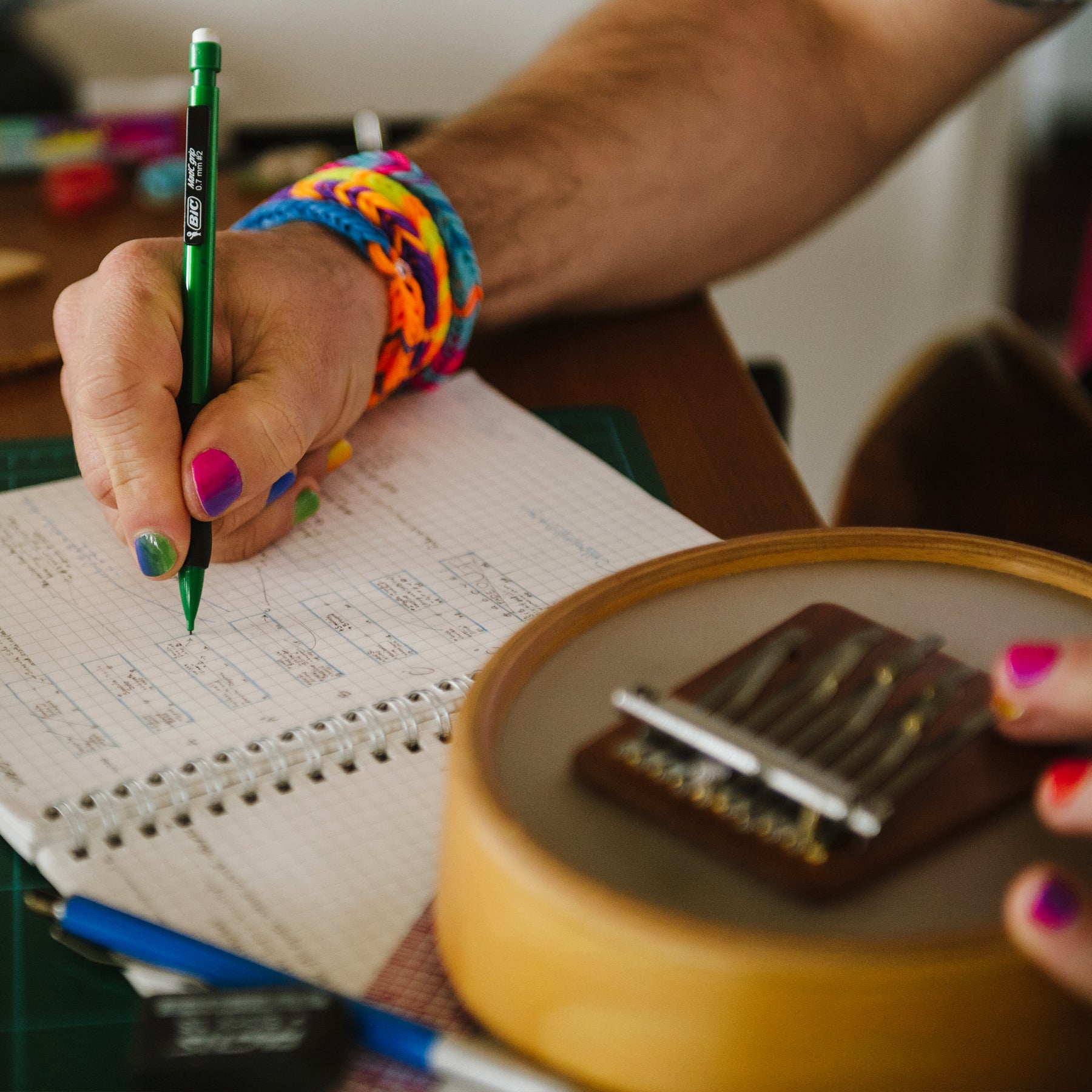 Wellness Percussion: Self-Care Summer School!
Today we're launching our brand new live interactive online course: 
WELLNESS PERCUSSION: Self-Care Summer School with Teacher Brandon
This will be a live, immersive (super fun) online training series where you'll learn rhythms and techniques to support well-being on intuitive instruments that play well together - taught by our good friend and longtime collaborator Brandon Blake. Registration for the SUPER EARLY BIRD SAVINGS RATE is now open until April 25th - during which time you can receive $150 off the full price PLUS receive a Zaphir Chime in the tuning of your choice! Read on to learn more and click on the registration link to learn more.
Watch Brandon's Intro Video on YouTube: 
Have you been longing to play a percussive instrument but felt it might be too much time and effort to try to learn? The bar for learning a new musical instrument is often too high and intimidating for many people, leaving their wish to play music unfulfilled. Yet playing percussive instruments for enjoyment has proven effects on personal wellness and well-being. Here at WE PLAY WELL TOGETHER, all our instruments can be played intuitively from the moment you pick them up! And with the right guidance, anyone can learn simple techniques to add musical mindfulness to your daily routine - a practice that can serve you for the rest of your life. Our Wellness Percussion teacher Brandon Blake will bring just the right amount of inspired instruction, gentle loving care, and irreverent rascality to delight you in this fun live course.
Each week Brandon will focus on one intuitive musical instrument category in the WE PLAY WELL TOGETHER family to introduce you to the basics: explaining the what and why. Introductory instrument instruction will include: Koshi & Zaphir Chimes, Kalimbas & Sansula, Wood Tong Drums, Metal Tongue Drums, Handpans, and Monochords.
Brandon has developed some incredibly original percussive techniques for the instruments you won't find anywhere else! He figured out you can re-tune the kalimbas and Sansula in real time while playing them by dropping magnets on the metal tines - and he'll reveal the secrets behind the magic in this course! Brandon will also share with you super innovative ways to play the Koshi and Zaphir chimes - by plucking the tines and drumming on the cylinders, as well as show you percussive techniques for playing monochords not offered in our other monochord trainings. 
If you own any of these instruments you'll learn innovative techniques to play them. If you don't  currently own any of them, you'll receive an in-depth understanding of the different sound qualities and well-being effects these sound tools may provide, helping you decide which of them might be best for your personal wellness practice. 
Best of all: each week, rhythmic patterns will be introduced that you can play on any of our instruments, your own percussion instruments at home, or even if you have no instruments, you can clap, tap, and move your body along, cultivating a collection of supportive rhythms you can use whenever you need them. 
.         
Most importantly, we want you to find the joy (and sometimes catharsis) of analog experiences - and how you can easily add so much self-care to your day. This class will offer a range of experiences from simple intuitive playing to varying levels of complexity. You can participate in the interactive live portions to the level you feel comfortable, or simply catch the recordings if you're shy or if the live class isn't in a friendly time for you.  
We look forward to playing well with you and Teacher Brandon this summer!
Wellness Percussion: Self-Care Summer School with Teacher Brandon
A live immersive (super fun) online training series where you'll learn rhythms and techniques to support well-being on intuitive instruments that play well together.
Live Course Dates:
Free Intro Sunday, June 25th
Six 1-hour class on Sundays July 2nd - August 6th 
10-11am PT, 11-12pm MT, 12-1pm CT, 1-2pm ET, 6-7pm UK, 7-8pm EUR
Five 1-hour Office Hours on Tuesdays June 27th - August 1st 
5-6pm PT, 6-7 pm MT, 7-8 pm CT, 8-9 pm ET
(2-3pm Hawaii, 10am-11 am East Australia)
Course Fees:
Full Price: $600 (Register by July 2nd) 
Early-Bird Price: $450 (Register by May 25th) 
Super Early-Bird: $450 + Zaphir Chime*! (Register by May 1st)
*Zaphir Chime is a $64 value and you get to choose your tuning! Chimes for the Course will be sent to you one month before the course start date
  Choose your Chime:
  Twilight (Green: C-Major)
  Sufi (Blue: D-minor)
  Crystaltide (Red: G-Major)
  SunRay (Orange: C#-Major)
  Blue Moon (Gold: A-minor)