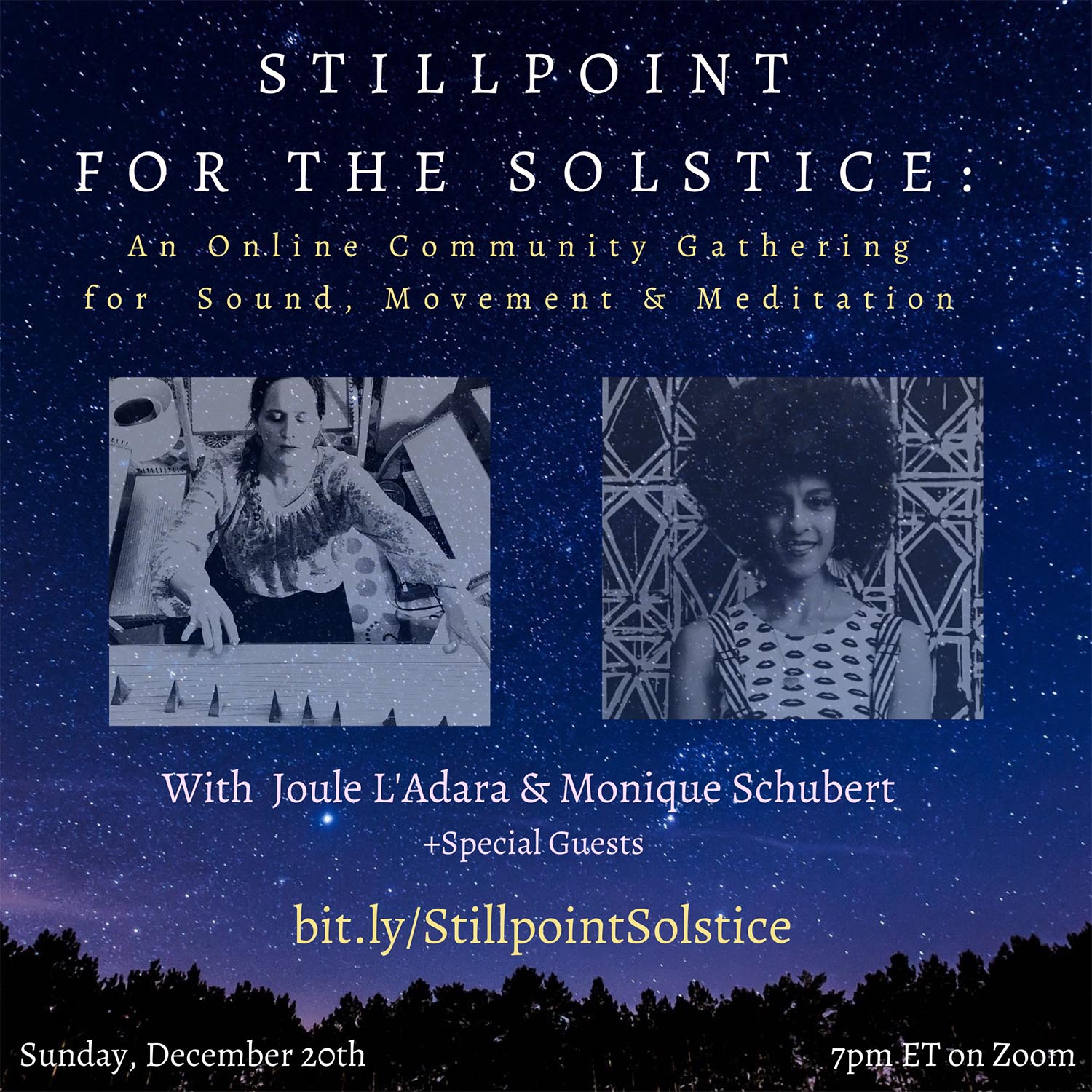 Stillpoint for the Solstice: A Free online Event featuring We Play Well Together Instruments
 Stillpoint for the Solstice: A Gathering for Sound, Movement & Meditation
Facilitad by: Joule L'Adara & Monique Schubert
With Special Guest Appearences By: Treya Lam & Junauda Petrus-Nasah
We invite you to join us in community as we pause to go deep, deep within: journeying to the stillpoint at our center. This is the resting place of the soul.
At the end of this tumultuous year, we come together on the eve before the Solstice, to sit in presence with one another. We acknowledge where we are and how much we've been through. We will release and empty out all that's been held within us: sounding the shadows so that as the wheel turns into the next solar year, we open up space for what we desire to bring in. By going through this vibrational process together, we may more easefully come into alignment, cohesiveness, and illumination.
You'll be guided through a series of participatory invitations utilizing movement, voice, breath, and deep listening. These will include: gentle yoga poses, guided breathwork, vocal sounding, and listening to live performances of inspired poetry, song, and therapeutic sound instruments. You may chose your level of participation: whether it's laying down and listening as a sound bath, or actively moving and vocalizing. Each invitation is designed to bring you into deep awareness of your self, while receiving support from the collective.
This meditational journey will last about an hour with participants' mics on mute. After the facilitation concludes, we will stay and open up mics for those who may wish to to be seen, heard, and witnessed with optional sharing in the group space.
"The longest night gifts us with time to enter the darkness, fully. The stillness behind action gathers as we empty and trust in our renewal." - Oak Chezar, Mother Tongue Ink
This online event will take place live on Zoom starting at the following times:
Sunday, Dec. 20th:
US: 2pm Hawaii/ 4pm Pacfic/ 5pm Mountain/ 6pm Central/ 7pm Eastern
Monday, Dec. 21st: 12am UK , 1am EUR, 11am VIC/NSW, 10am QLD
For other time zones click HERE to find 12am UTC
About the Presenters:
Monique Schubert, MFA, E-RYT 500, is a Kripalu certified yoga teacher and the founder of OM Society, a lifestyle wellness company that expands the reach of yoga and mindfulness through workshops, classes and special events. She sees life as an extended project to make the world a kinder and more beautiful place. She uses the tools of art, yoga and music to educate, inspire, and connect.
For almost 20 years Monique has taught yoga and mindfulness in the New York City area. Monique weaves her background in visual arts into her mindfulness teaching and has brought yoga to diverse cultural spaces including Socrates Sculpture Park, Studio Museum in Harlem, Museum of Contemporary African Diasporic Art, Rush Arts Philanthropic, and the Fashion Institute of Technology. Through collaborations with non-profits, museums and schools Monique creates engaging public programs for young people and adults. Monique is in her 12th year teaching yoga, mindfulness and stress management at the Bronx Community College, and currently she works with the Kripalu Center for Yoga & Health as a teacher trainer.
Monique is also a member of the Resistance Revival Chorus, as group of more than 60 women who unite to sing songs from various protest traditions, such as the Civil Rights, Labor and the Women's movement. The message of the chorus is one that resonates with Monique from a yogic perspective as well, the idea that joy is a necessity of life and, in the words of poet Toi Derricotte, 'Joy is an act of Resistance.'
Treya Lam is a classically trained multi-instrumentalist and songwriter whose cinematic songs and ethereal vocals are built on Nina Simone-inspired piano, meditative guitar and lush chamber arrangements. Treya's debut album, Good News, was released via Kaki King's label, Short Stuff Records. Produced by Kaki (who plays multiple instruments throughout the album), the album was recorded with array an of talented female musicians, most notably Catherine Popper (Jack White, Norah Jones) on upright bass, and mixer Erin Tonkon (David Bowie, Esperanza Spalding). Mastered by Sarah Register, Good News is an instant classic, full of the kind of songwriting and raw talent that has never gone out of style, as well as a message of love and longing.
Treya was one of five artists selected for the 2019 Joe's Pub Working Group residency and is an active member of the Resistance Revival Chorus. She frequently performs with the Big Quiet and is developing a musical as an Associate Artist with the eco-theatre group Superhero Clubhouse. Lam seeks out extraordinary venues and has performed original music at the Prospect Park Bandshell, American Museum of Natural History, New York Botanical Gardens, Garfield Park Conservatory, MoCA Museum and the New York Public Library. Treya has shared stages with Ani Difranco, Yo-Yo Ma and the late jazz pianist Billy Taylor as well as her frequent collaborations with Kaki King.
Learn more about her work at: treyamakesmusic.com
Junauda Petrus-Nasah is a creative activist, writer, playwright, and multi-dimensional performance artist who is born on Dakota land, West-Indian descended, and African-sourced. Her work centers around Black wildness, -futurism, ancestral healing, sweetness, spectacle and shimmer.
Petrus-Nasah has written works for the stage, screen and page, employing poetics and experiences re-membered via ancestral dreaming and research of their lost stories. She is inspired by her parents and ancestors who immigrated from the Caribbean bringing their magic and trauma with them, and her art ripples with their legacy. She is influenced by the Middle passage and diaspora, Black folks in Minneapolis, ancestral magic, and stories of queerness and womanhood within these contexts. Speculative fiction and magical realist elements are central to her work.
Her debut novel, The Stars and the Blackness Between Them was published by Penguin Random House in 2019, and was a 2020 winner of a Coretta Scott King Honor Award. Petrus lives in Minneapolis with her wife, Ngowo Nasah, and family. Learn more about her work at: junauda.com
Joule L'Adara, MFA, is an experimental vocalist, holistic vocal coach, and sound facilitator based in New York City. She is the founder of Sounding Circles, offering sound-based practices that support well-being and transformational development. Since 2009, she has offered her unique voice facilitation training to sound practitioners through live workshops, retreats, and online courses. Her vocal meditation programs have been featured nationally at the New York Open Center, Integral Yoga Institute, Donna Karan's Urban Zen, WeWork Wellness, Unplug Meditation, The Green Spa, Naturopathica, The Dorot Institute, New York City's Community Healthcare Network, Planned Parenthood, The WOOM Center, Bread & Yoga, The Samadhi Center for Yoga and Meditation Denver, Sound Meditation Presents in San Francisco with Guy Douglass, The Globe Institute San Francisco, Community Arts Partnership (CAP) Program in Los Angeles, and at Kalani Oceanside Retreat Hawaii.
Joule is also an official US trainer for feeltone instruments: a German-based builder of beautifully handcrafted mediation monochords. This is a drone instrument that produces a cascade of heavenly harmonics which supports the body to come into renewal throuh deep relaxation. Joule offers monochord training intensives and online courses, as well as serving as an ambassador for feeltone. She's been featured with the instruments on The Today Show, New York 1, at the Guggenheim Museum with The Big Quiet, and as part of San Francisco's Sound Healing Symphony. Joule is a trained classical singer who in the past performed with The Metropolitan Opera and as a soloist in Carnegie Hall.
Joule leads a weekly free online therapeutic vocal sound gathering every Sunday. It's a chance to come together and connect with others in circle beyond words, or difference, and find cohesiveness through sound. Join our community at: Sounding Circles Sunday