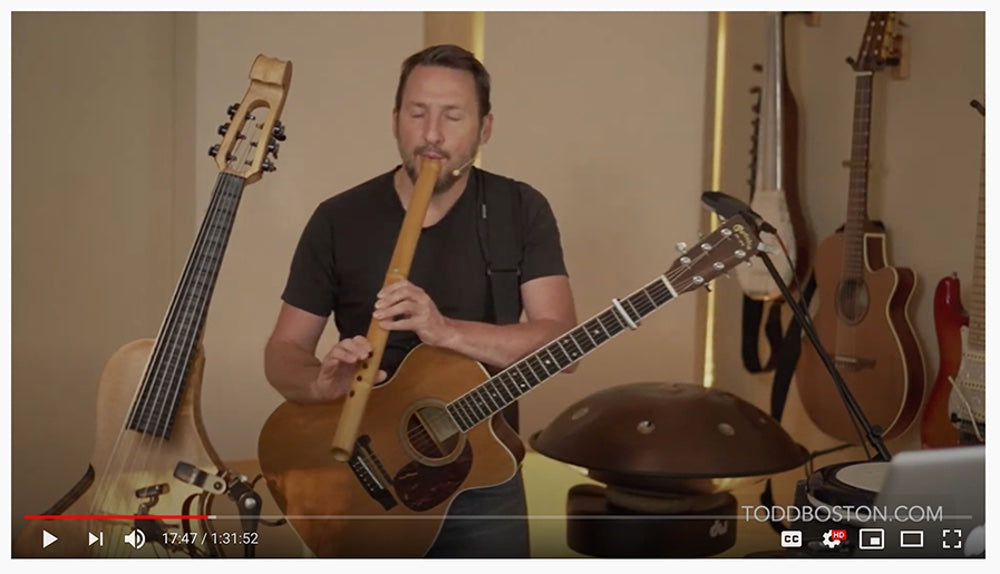 Join Multi-Instrumentalist Todd Boston Tuesdays and Wednesdays live online!

THE QUIET MIND
Feel Connected - Reduce Stress - Be Inspired
Featuring instruments distributed by We Play Well Together
JOURNEY TOGETHER INTO THE SOUND AND SILENCE

Our relationship with vibration, sound, and music is intrinsically connected to who we are as humans. Join award-winning musician Todd Boston in a weekly experiential class on the power of sound, music and meditation. We will be joined by special guests.
Learn practical tools to deepen your connection and relationship to sound as a tool for transformation, healing, and growth. Explore how music and meditation can expand your abilities of deep listening, intuition, and how to integrate it into your healing practice and day to day life.
By tuning our voices, instruments, and hearts we can go deeper into the subtleties of listening. This state of focus and deeper listening can open us to hear our intuition and inner voice in more clear and profound ways. Bring your voice, percussion, and/or instrument.
REGISTER HERE - CLASS BY YOUR DONATION
Hosted by Master Musician / Teacher Todd Boston
Todd Boston Livestream
Featuring instruments distributed by We Play Well Together
8:30 am Pacific Time
Todd Boston is a composer, guitarist/multi-instrumentalist and producer that defies what is possible for one musician. He fuses advanced finger style guitar techniques, wood flute, percussion and instruments of the world together with live looping and computer technology. As a touring artist and performer for concert audiences, festivals, yoga classes or at the bedside of hospital patients, Todd invokes the feelings of nature in his melodic and rhythmic playing to inspire and soothe his listeners.

CLICK HERE FOR MULTIPLE WAYS TO WATCH LIVE OR RECOREDED