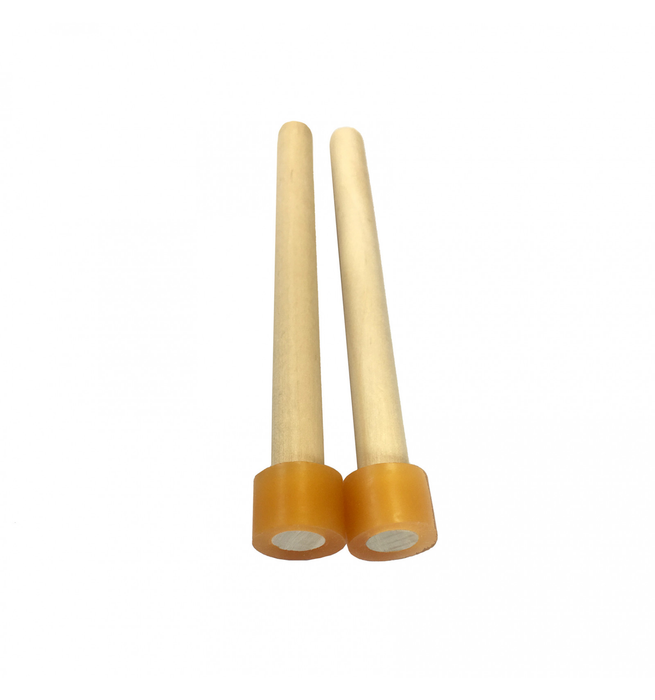 Spacedrum sticks
Original price
$15.50
-
Original price
$22.50
Our spacedrums from Metal Sounds can be played with your hand or with sticks.
Important to use the Metal Sounds stick as they are designed to generate optimal sound and volume without damaging the spacedrum playing fields.
If you use other rubber mallets they might be to hard or heavy and than could get the playing fields on the spacedrums out of tune.
We do have retuning service but better not to plan on using it:)
The Spacedrum can be played by hand or with suited sticks. The technique of playing with sticks is radically different and sensations too. Moreover, the resonance induced by the contact pads and latex attack notes bring a new dimension to the instrument varies depending on the type of buffer used.
We have therefore designed several sticks to enable you to understand various playing techniques and types of stamps.
The model "dual" functions include a playing technique using 4 tips.

During their manufacture the sticks are equipped with soft pads.
Buffers toughest independent and inter-changeable are included with each pair of sticks.

Note: Be careful, the metal being sensitive to shocks we strongly recommend that you use chopsticks suitable for Spacedrum and play softly.

- Rods: beechwood
Length: 130 mm
Tube diameter: 12 mm

- Buffer (tip): latex
Soft latex pad diameter (assembled): 22 mm
Diameter latex buffer drive (mounted): 18 mm

- Weight (pair): 24 g