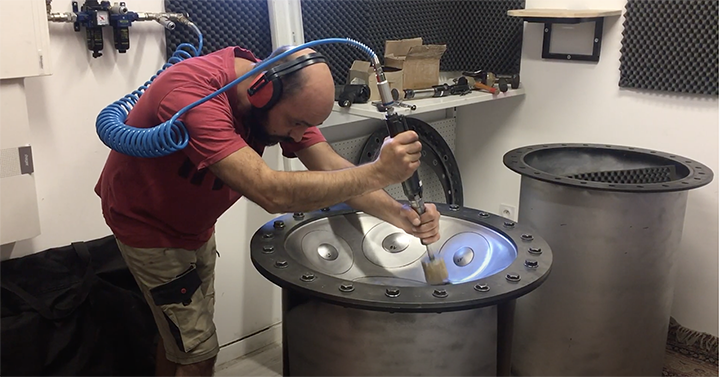 How do you MAKE a handpan??
How DO you make a handpan?
We got to go behind the scenes with our friends at Metal Sounds the South of France to find out!
...turns out the answer is a LOT of care, craftsmanship, heaps of hammering, laser-cutting, patience, and good ears (along with high-precision tuners!)
We put together this video showcase for Metal Sounds and can't wait to share it with you...
Metal Sounds:
A Showcase of Passion, integrity & quality!
In this video you will get to:
-

GO

 behind the curtain at the Metal Sounds workshop in the South of France to see how they build the 

Spacedrum

 handpans and 

Zenko

 tongue drums
-
EXPERIENCE
 Metal Sounds in action with incredible recording artists  like Canada's quirky and eclectic band 
Walk off the Earth
-

BE IMMERSED

 in passionate musical compositions that combine the unique sound of 

Spacedrum

 hanpans with classical music ensembles
-
GET MEGA INSPIRED
 by all the ways sound artists and musicians incorporate 
Metal Sounds
 into their creative work and artistic offerings 
This vid's around 30-minutes long, so you can scrub through to view different portions you're curious about - OR immerse yourself in the long-play which unfolds like a concert (with cut-aways to Metal Sounds workshop footage!) 
Longing for a handpan? There are MANY different tunings available from Metal Sounds! Go to our site now where you can play videos to play them so you can add a Spacedrum to your "musical instrument wish list" (aw, we KNOW you have one! ;) 
 Reserve yours today with a 20% downpayment.
Note: unless we have them in stock, Metal Sounds handpans and can take up to 12 weeks to arrive as they're made to order! (Yikes!) So be sure to place your order early with that in mind, and look out for special notices of when we have them in stock in our US location!