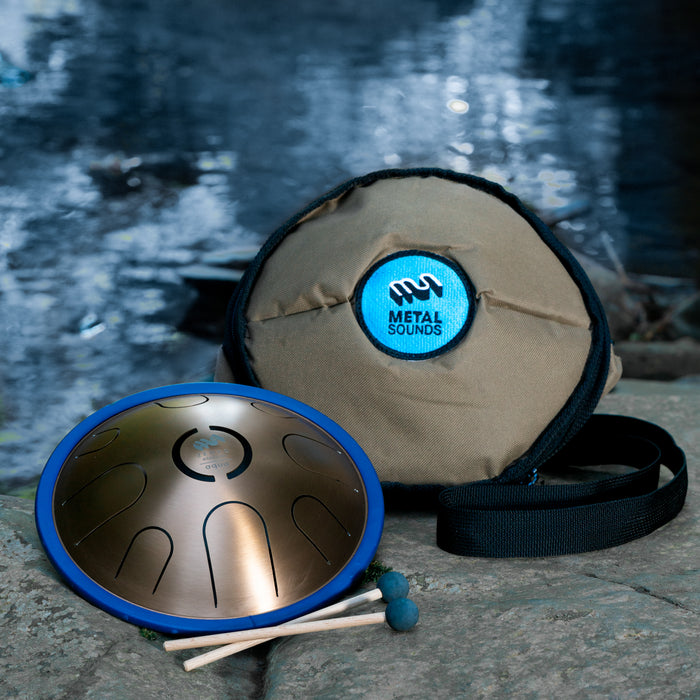 ZENKO ELEMENT (432hz) - Elemental Soundscapes Water Collection (D-minor)
Original price
$275.00
-
Original price
$275.00
From the Metal Sounds Company in France we have another kind of tongue drum made of metal, the Zenko Drum.  Also known as a tank drum, we lovingly nick-named these instruments the "baby turtles" for their sweet small appearance and effervescent bell-like sound.
( the video shows the Zenko elemental Aqua 432hz played with the Monolina D tuned to 432hz)
One-half the size of the full Zenko drum, each Zenko Element has holes in the center that allow the sound to ring out and tiny feet on the bottom to hold itself up, in addition to a colorful rubber ring around the rim to identify its elemental tuning. All our tongue drums - be they wood or metal - can be played with mallets or just the fingers.
The AQUA ( D-minor)  tuning forms around a D-minor scale. It has a flowing introspective feeling. 
Gently tap the notes of the Zenko Element AQUA with the sticks and the relaxing, crystalline sounds will enchant and soothe you immediately.
Three rubberized feet let you set it up on various surfaces.
This small, intuitive melodic percussion instrument can also be played easily by holding it in one hand or resting it on your thighs.

Its size allows you to take it everywhere with you thanks to the including carrying bag.

Material: stainless steel Diameter: 8''
Notes: 8
Profile colour: Blue
Net weight: 1,140 kgs
Accessories included: Pair of mallets & Soft bag