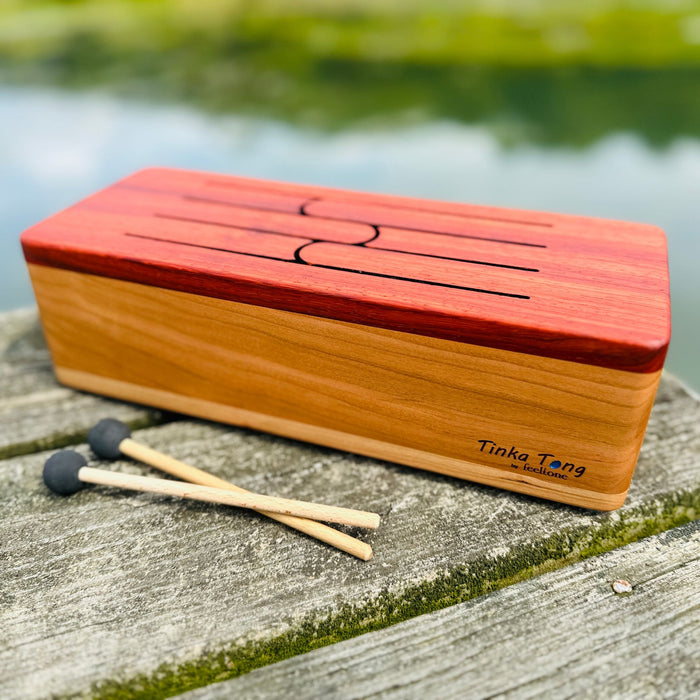 TINKA TONG AQUA (432hz) - Elemental Soundscapes Water Collection (D-minor)
Original price
$265.00
-
Original price
$265.00
The Video shows the Tinka Tong in Aqua tuning 432 hz played over the drone of a Monolina D in matching D-minor Aqua 
Feeltone has also crafted beautiful wood tongue-drums and we are proud to launch their new Tinka Tong Aqua. This drum matches the Water Elemental Soundscape Collection. 
The Tinka Tong creates short, light percussive tones that are earthy, warm, and grounding. Depending on how it's played it can sometimes sound whimsical and cheerful (even when playing in a minor key) or activating and energizing. Tinka Tongs are wonderful for playing towards the beginning or ending of sound journeys to connect, ground, and activate the physical body.
Features:

6 Notes: A D F G A D |432Hz
Wood Padouk and Cherry
Size: 12" x 5" x 4" 
Included: 2 Mallets
Convenient hand grip hole on the bottom lets you hold the drum and play with one hand.
treated with non toxic biological hard wax
Made in Germany
Small and lightweight this six-note Tinka Tong is a lot of fun to play. It emits a clear, melodic tone and is a great instrument for easily combining rhythm and melody.