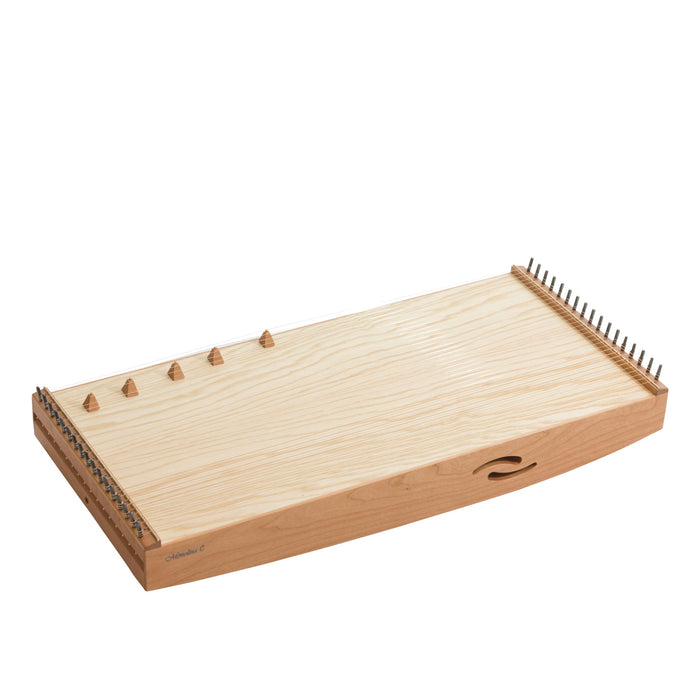 MONOLINA D - Elemental Soundscapes Water Collection (D-minor)
Original price
$1,800.48
-
Original price
$2,185.48
The feeltone Monolina in D is the Heart of the Elemental Soundscapes Water Collection. In this video we tuned the monochord to 432hz to match the other fixed pitch instruments. 
Monolina D - deepest Monolina , 34 strings, with strong bass and vibration: 24 overtone strings in d, 5 bass strings D and 5 fifth strings in A 
tuning D
34 strings, 24 overtones,5 bass, 5 fifth
5 Koto bridges
Universal template for the bridges, for minor or major tuning
tuner, tuning key and some replacement strings

A set of percussion chopsticks

Size 

28.3'' x 13'' x 4.3''

Material: ash & cherry wood
Weight: 6 lbs
free 30 min Skype training include
Monolina Manual: Download
What our customers are saying...
"The Monolini is a beautifully crafted intuitive instrument that is perfect for sound healing with vocal improv groups because it creates a magical music bed over which delicious harmonies can be created. It so easily produces enchanting  overtones that a person playing it can simultaneously sit in a meditative state and keep the strings sounding with little effort. People are incredibly drawn to this lovely portable monochord whenever I give workshops."
- Joule L'adara, founder of Sounding Circles LLC
"As a music therapist, I know about the incredible therapeutic value of sound and vibration. I uses the monochord to begin and end her yoga classes, massage therapy sessions, and guided meditations. Because we synchronize with our sonic environment- a principle called "entrainment"- the monochord is a powerful tool that induces a parasympathetic response, reducing heart rate, blood pressure, breathing, pulse and brainwave activity. It facilitates a shift from the busy thinking and doing states to a calm feeling and being state, thereby promoting relaxation and preparing her clients to enter and receive deep healing through yoga, bodywork and meditation."
- Katarina Zech, Board Certified Music Therapist, Licensed Massage Therapist, Registered Yoga Teacher, and Meditation Guide.