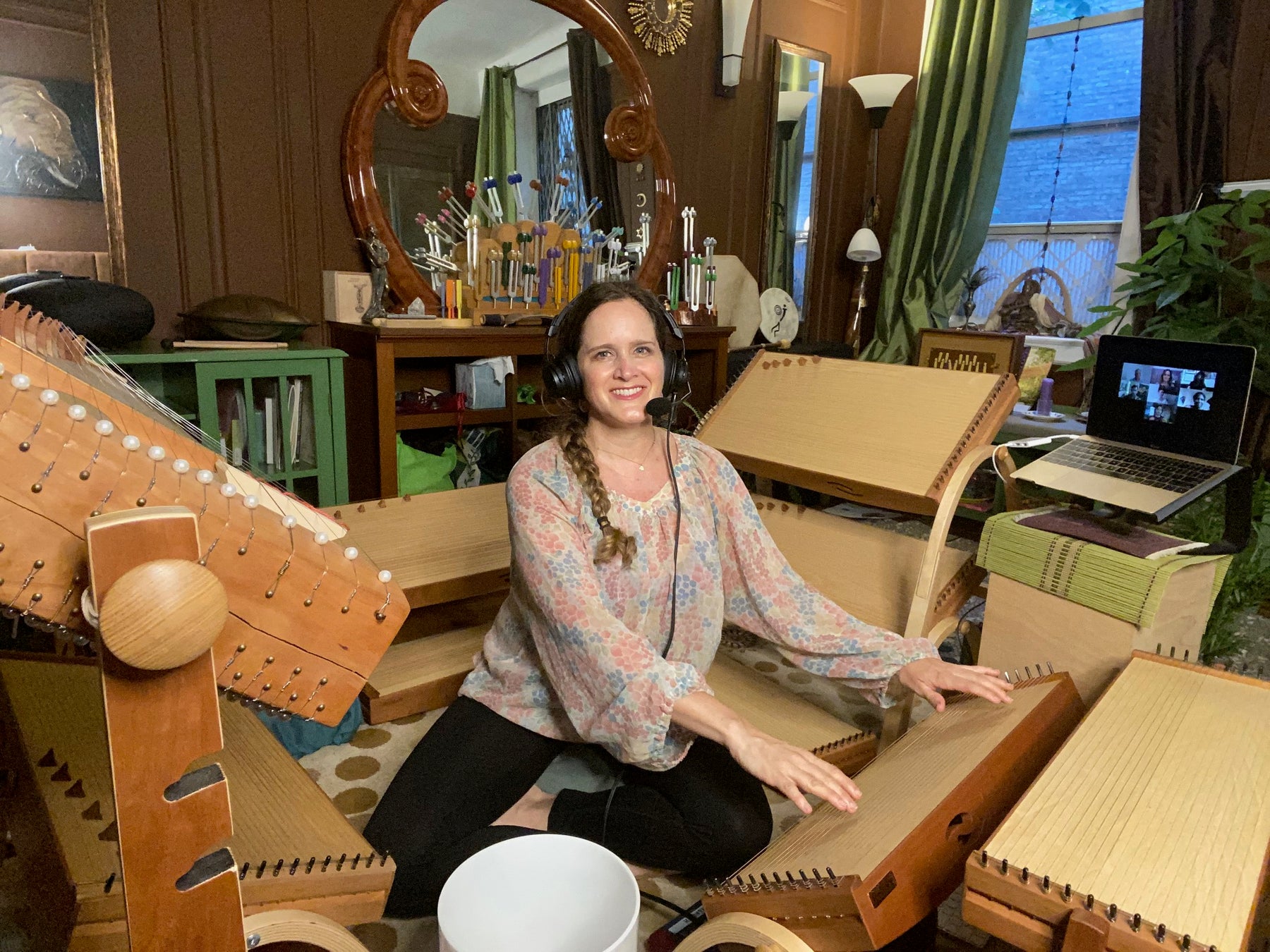 Monochord trainings with Joule L'Adara
Virtual Retreat!

Secrets of the Monochord: Level 1, Part 1
The power of overtones & natural acoustic vibration for Sound Meditation, Sound Baths,  & Sound Massage
A Day-Long Online Retreat Training with USA Feeltone Trainer Joule L'Adara, MFA in Music

 
This is the first part of the "Secrets of the Monochord" weekend intensive. Normally an in-person 2.5 day retreat, but since the "pandemic times", we're now offering half of the training online in a one-day virtual retreat format. While there is a portion of the training that doesn't translate to distance learning (such as experiencing the magic of a group of monochord players layering together vibrations in the same acoustic space!) the instructional aspects of the training that DO work wonderfully online will offer you a more profound connection to your instrument and improved playing within this one-day deep-dive. (You'll also have the option of attending the full weekend in person for 1/2 price in the future when it is safe to gather again!) 
This hands-on intimate intensive workshop will give you the opportunity to play, experience, and learn more about the feeltone Monochords including the Monolini and Monolina body therapy monochords plus the larger Concert and Meditation Monochords. Learn Monochord playing techniques including: how to create a "flying sound carpet" rich with overtones by bringing out the different harmonics to accent your playing, as well as how to tell evocative stories on the monochord by changing the 5 playing perimeters. You will be given the opportunity to open your ear to the harmonic spectrum, be shown how to differentiate between sound qualities, and understand the difference between tuning options for the different monochord models. You'll also learn practical care, maintenance, tuning tips, how to change a string, and basic harmonic theory. By the end of the day spent focusing solely on your monochord with the support of our small group, you will have come to a new "attunement" with your instrument, experiencing how playing a Monochord can open a new space for you: allowing you to relax, rejuvenate, and nourish yourself and others.
For more details about what makes this training so magical, read this article: "How do you learn how to play an 'intuitive Instrument?' " written by our Feeltone trainer Joule L'Adara. 
Price: $300
$50 deposit to hold your place - Email us to Sign Up
Small Group: 6 participants max!
All-Day Online Retreat: Specific dates to be coordinated around participants' schedules and availability (that means once you offer your deposit, you have a say in when the next retreat date will be booked!) Once a training date is chosen, start and stop times vary based on your time zone - we ask that participants keep an entire day available so you can have the "retreat" experience of focusing only on your music making for one day. The schedule starts as early as 8:00 am and ends as late as 9:00 pm which will include two 3-hour sessions and one 90 minute evening participatory experience. Included is 6 hours of live instruction, an evening sound experiential, and extra instruction time for Q&A. 
Upcoming Virtual Retreats:
March-April-May 2023 (Exact Dates TBD)
First Session: 8am-11am PT/ 9am-12pm MT/ 10am-1pm CT/ 11am-2pm ET
Second Session: 12pm-3pm PT/ 1pm-4pm / 2pm-5pm CT/ 3pm - 6pm ET
Evening Session: 4:30-6:30 PT/ 5:30-7:30 MT/ 6:30-8:30 CT/ 7:30pm-9:30pm ET
Live on Zoom 
.
Includes: 7.5 hours of instruction with short breaks + Immersive Sound Experience  
Exact Dates and starting times to be scheduled around participants' availability and time zones. We offer this training in spall groups up to 6 participants max around once a month. After you pay your deposit, we'll arrange a date that works with your availability taking your schedule into account!) 
To find out if this is the right course for you, book a complimentary live consultation time on our instructor's calendar HERE (Select "Sound Breakthrough") 
 Joule L'Adara, MFA is a certified trainer for Feeltone Instruments. She has taught vocal sound healing workshops since 2009 and been teaching online since 2014 - having a unique ability to create the feeling of palpable togetherness in the online format. 
Her journey with the feeltone Monochord has taken her many places, and she's been featured on television with the Today Show and NY1. 
Joule is an experimental vocalist, holistic vocal coach, and sound facilitator based in the Hudson Valley of New York State. She is the founder of Sounding Circles, offering sound-based practices that support well-being for personal transformational development, as well as training sound practitioners through live workshops, retreats, and online courses. Her vocal meditation programs have been featured nationally at the New York Open Center, Integral Yoga Institute, Donna Karan's Urban Zen, Unplug Meditation, The Green Spa, Naturopathica, The Dorot Institute, New York City's Community Healthcare Network, The WOOM Center, The Big Quiet, The Samadhi Center for Yoga and Meditation Denver, The Globe Institute San Francisco, Community Arts Partnership (CAP) Program in Los Angeles, and at Kalani Oceanside Retreat Hawaii. She has worked with global companies including the Skidmore, Owings & Merrill's Women's Initiative, WeWork Wellness, and Planned Parenthood. Additionally, Joule is a trained classical singer who has performed with The Metropolitan Opera and Carnegie Hall. 
What participants are saying about the "Secrets of the Monochord Virtual Retreat":
"I had the opportunity to take the Secrets of Monochord virtual retreat and couldn't be more pleased. I learned a lot about the Monochord and some new playing techniques! I'm so happy that in a time when traveling is very limited that I still had the opportunity to learn and have additional skills to practice and share! Thank You!" -Cami Cote, Missoula, MT - www.heartrhythmreiki.com 
We had an amazing time to be connected in space with fellow monochord enthusiasts to share and explore our love for sound healing. The information presented was invaluable for sharing the gifts of the monochord. The concert at the end was simply beautiful! Thank you for a wonderful day!"  -Frances Rhodis, Hollywood Beach Florida ~ www.aohmwellness.com
"Thank you for such a wonderful workshop yesterday - it was informative, intuitive, experiential and spiritual all at once! Because of this experience, I approached playing it with a very different energy, and felt more connected to the instrument." -Ruth Ratiliff, New Jersey www.ruthratliff.com
"The Level 1 Virtual Monochord Retreat is a great way to get to know your monochord as well as gather in community with like minded folks.  You will leave knowing how to care for it properly (restringing, tuning, optimum temperature, etc.), how to play using varied techniques, as well as ways to deepen your connection to the instrument. There are great exercises to get you out of head and tap into your creative side.  As a bonus you will be treated to a beautiful monochord meditation that not only relaxes, but inspires you to continue your practice." -Gretchen Bickert, Mesa, AZ. www.gretchenbickert.com 
"I really enjoyed the course and love how much enthusiasm Joule shows. I am so glad I was able to attend the course and highly recommend it to anyone buying a monochord." -Stephanie, FL 
"I was brand new to the monochord and now feel very comfortable with it. I am so taken with the beauty of its sound and look forward to more workshops. Joule is an amazing teacher." - Anonymous 
"Two thumbs & eight fingers up for Secrets of the Monochord. Life-changing. Thank you, Joule!" - Katherine, Connecticut