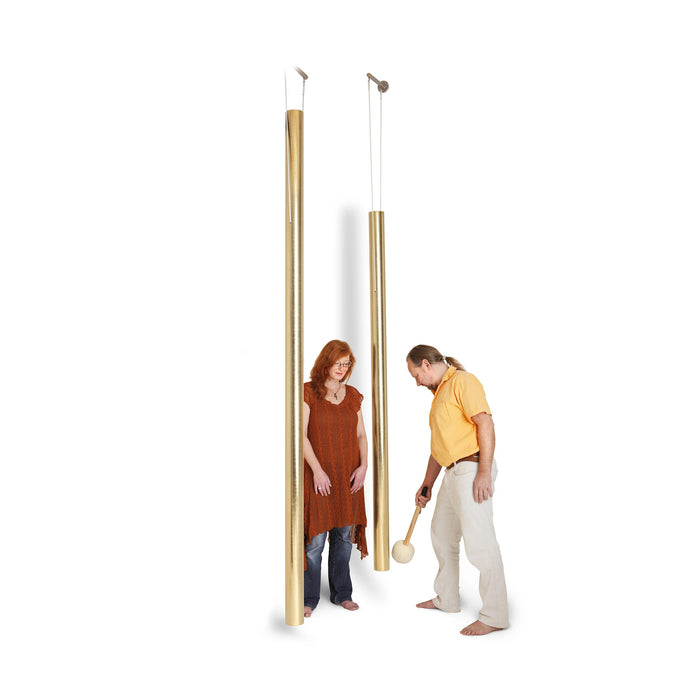 Sets of Tubular Gong Tubes - different notes available
Original price
$3,750.00
-
Original price
$5,850.00
Please contact us if you would like single or multiple Gong Tube sets.
These instruments open up a new level of working with sound. If you tap the end of the tube repeatedly you create a size-able sound space consisting of frequencies from below 20HZ (infra frequency) to multiple thousand HZ Overtones.

The experience of this sound field can last up to 10 - 15 minutes through the reverberation of the tubes. Our bodily, emotional and mental senses get stimulated and sensitized.
Compared with other sound massage instruments, which stimulate different areas, the tubular bell and gong chimes influence and harmonize the whole energy field.

A special alloy is used to create the tubular gongs and after they are tuned to the key note a special hand polish fine tunes the brilliance of the sound. Tubular bells and gong chimes can be tuned to any key note and can be hung indoor and outdoors.
Set of three:
Tube height AIS: 280 cm, D: 250 cm, F: 228 cm




Incl. 3 wall mountings




Material: brass




Diameter tube: 10 cm



Set of two 
Tube height D: 250 cm, F: 228 cm




Incl. 3 wall mountings




Material: brass




Diameter tube: 10 cm