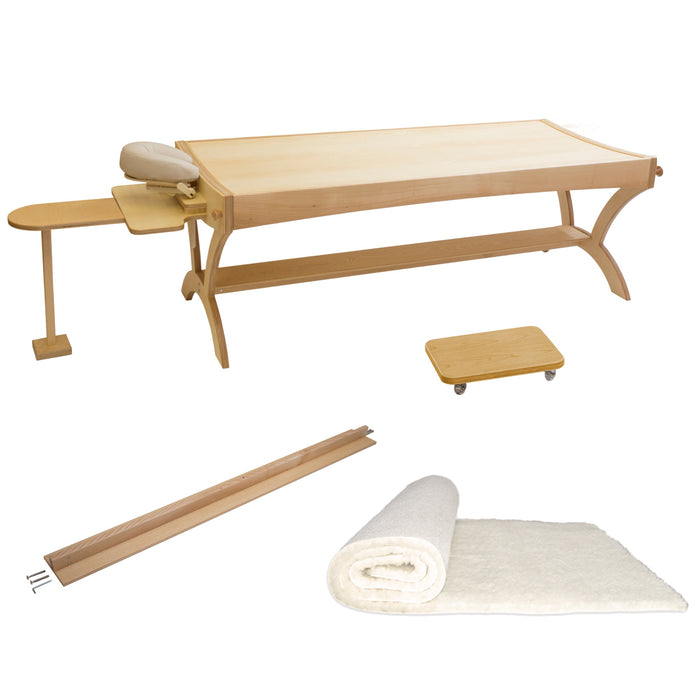 Monochord Table , all inclusive for Sound Therapy
Save

$390.55
Save

$390.55
Original price
$7,758.91
-
Original price
$8,315.83
Simple Description: The Monochord Table creates a full body experience of sound, vibration and sound massage. Our Monochord table recently had a major tune up. This latest Monochord Table has a sophisticated internal body that evokes more brilliant overtones and a brighter bass and vibration than its predecessor. The tuning stability is 100% when the client's weight is on the table. It's easy to play and anyone can use it intuitively without any prior musical experience.
Quality: Hand Crafted in Germany
Strings and Tuning: You can choose either 60 blank overtone strings or 30 blank overtone strings and 30 wound bass strings.
Dimensions: The assembled table measures 79.2'' x 28'' x 32'' (For shipping the legs can be taken off and the monochord packs into a 80" x 35"x 35" box.)
Weight: Body weight is 99 pounds (45 kg), with a total weight of 132 pounds (60 kg). It can easily be carried by two people.
It is designed for people weighing up to 330 pounds (150 kg).
Materials: The reclining ash wood surface is softly bent, soothing to the back. The resonance body, also made of ash, bends in two directions supporting the sound brilliance. You can choose a frame, feet and cross bar made either from ash or cherry wood.
Includes: Tuner, tuning instrument, some replacement strings.
Training:  Free 30 minute training via Skype.
Octave-sound massage: in the middle 30 blanc strings in d and on both sides 15 wound bass strings in D
Lying area 198 x 80 cm

 

/ 78'' x 31.5''

Height can be selected when ordering: 70 cm

 / 27.5''

Corpus in cherry or ash
Inclusive tuner, tuning key, spare strings, operating instructions
Complete offer including the following accessories:

Adapter with headrest & armrest
Plug-in table
Table underneath
Weelboard
Blanket
What our customers are saying:
"The power of sound has the ability to penetrate our cells, our hearts, our souls, our minds and it may ignite your own body's healing abilities. It can assist us in awakening to our true selves and help us remember who we truly are; beautiful & powerful beings of love and light. Meet my new monochord table. It has 60 strings underneath. .... To experience a sound session with my new monochord table is an experience like no other you can imagine."
Vanessa C. Miami FL