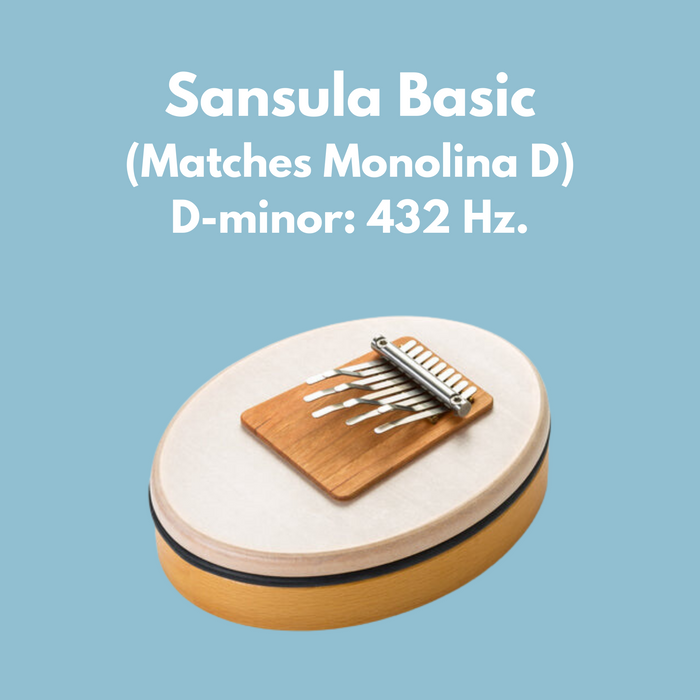 HOKEMA SANSULA - Elemental Soundscapes Water Collection (D-minor)
Original price
$132.00
-
Original price
$262.00
Hokema Sansula with 9 tines, tuned in D-minor to match our 432HZ Aqua Soundscape and will work with the Zenko Elemental Aqua, Koshi Aqua, B5,B9  in Aqua tuning and a Monolini or Monolina in D
What is the difference between the Sansula models?
Sansula Basic - delicate skin, that can break, an instrument for grown ups.

Sansula Renaissance - durable ( unbreakable) Remo drum skin moisture resistant the allrounder for grown ups and children.

Sansula Deluxe - natural hide goat skin, durable but skin will react to moisture. With tension screws on the back of the instrument for grown ups and children.

The default tuning is 432hz for the Sansula to match our Elemental Set  Zaphir+Koshi, Zenko Elemental or Tinka Tongs.  If you like the tuning but have 440hz instruments, you can chose 440hz.
Tuning for all models L>R: G C D A A F E D A 
If you like to return your Sansula yourself here is the tuning Diagram
This video shows the Sansula Basic model in Aqua D-minor tuning 432hz played with the Monolina D tuned to 432hz