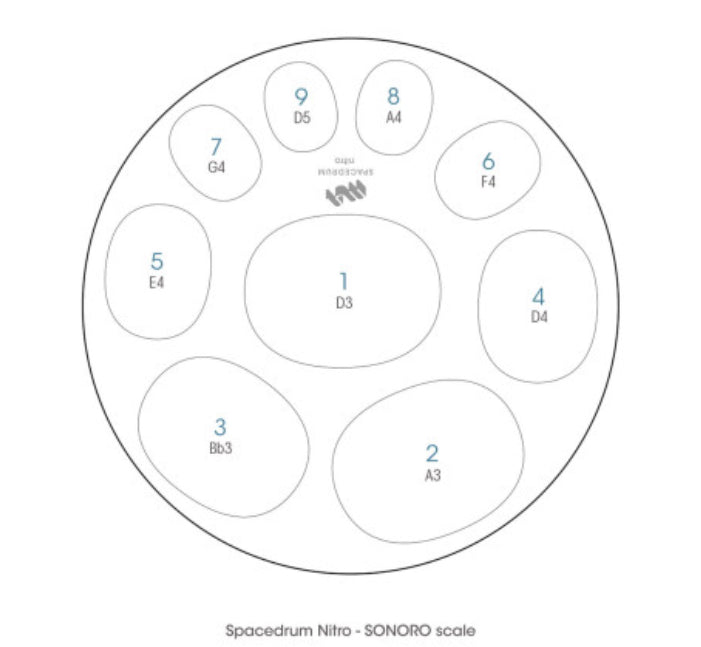 Spacedrum Nitro - 23 inches- preorder
Original price
$2,499.00
-
Original price
$2,499.00
Made to order wait time 3 weeks. Preorder Now.
The Spacedrum Nitro® 9 notes (8 notes + 1 Ding)

The 9-note Spacedrum Nitro® handpan (Sonoro) is a melodic percussion in nitrided steel. Our handpans are entirely manufactured in our workshops in France with all the passion that drives us and know-how acquired for many years.

The steel grade, the thickness of the sheets and the type of nitriding applied to our shells give the Spacedrum Nitro a unique identity and allows it to combine the essential quality criteria for a perfectly matched high-end handpan. With 8 notes + 1 Ding this model is suitable for any type of player, beginner as advanced. It is a reliable and precise musical instrument, very pleasant to use, both in terms of touch and game ergonomics. The range of its register ranges from D3 to F5 according to the ranges manufactured.


You can play it in your lap or on a stand.
This instrument is fragile and needs to be protected when it's not played. Our bags are specially designed for good protection of the Spacedrum.
Available Tunings and click on the videos above to listen to the sound samples
Scale: Sonoro Dminor -> D3 - A3 / Bb3 / D4 / E4 / F4 / G4 / A4 /
Scale: D KURD (Dm) --> D3 - A3 Bb3 C4 D4 E4 F4 G4 A4
Scale:   Equinox F Pentatonic -> F3 - C4 / Eb4 / F4 / G4 / Ab4 / C5 / Eb5 / F5
Comes with travel bag and a pot of wax.
Technical settings:
Material: Raw steel
Diameter: 21.6 in
Dome hight: 4.9 in
Bottom hight: 4.9 in
Weight: 4,5 kg (9,9 lb)
Number of notes: 9 (8 + 1)
Damper: removable rubber joint that reduces harmonics and sustains...
Surface treatment: thermal + wax 
Maintenance: wax (one pot is included with each Spacedrum). Stretch the wax on the external surface (top and bottom) once a month with a dry soft cloth. The frequency can be adjusted in regard of the playing conditions.