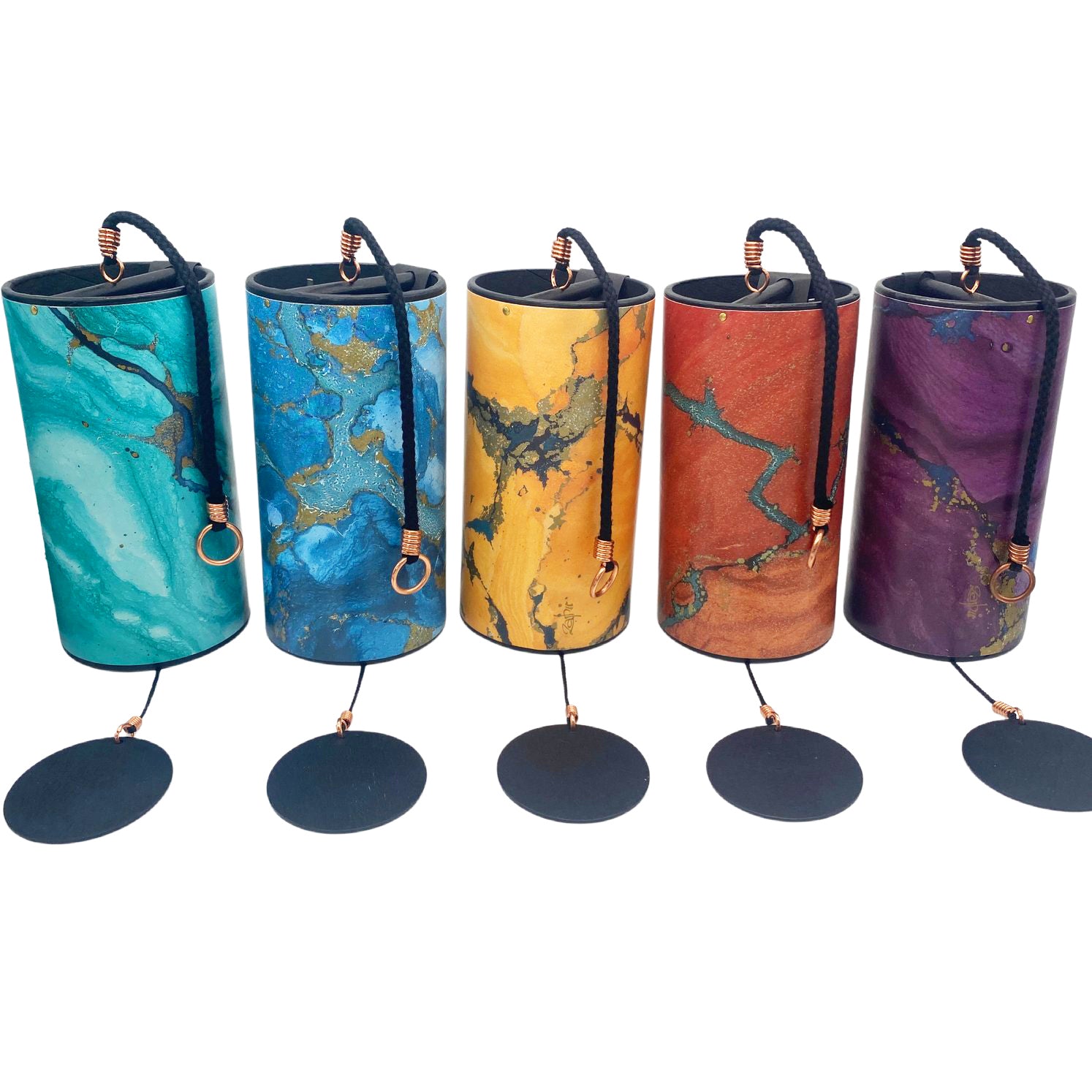 Masterful Sound Layering with Koshi, Kalimbas & Zaphir Chimes!
Know what makes the best gift for your favorite person? A custom matched-set of chimes and Kalimbas!
These delightful hand-held instruments can be combined for masterful sound layering - utilized by professional musicians and sound practitioners as well as by non-musicians who are longing for the power to make their own music. Kalimbas and hand-chimes are safe for kids and delight adults. 
Watch our new video below to get inspired by these beautiful twinkly tone combinations in triple sound layering... 
Chimes and Twinkly Tines

 
These lovely instruments can be mixed and matched!
The 
Koshi
 chime is handmade out of bamboo at an instrument workshop at the foot of the Pyrenean mountains in France. Each chime is the result of meticulous craftsmanship containing eight
 rods that are welded with silver into the metal plate at the base of a resonance tube. The precise tuning creates a play of clear notes rich in 
overtones
. These overtones of the shorter chords gradually dominate and become fundamentals, thus forming a circular tone range. 
Move the 
chime
 gently holding it by its cord: the crystalline relaxing sound may leave you in quiet wonder.
The  handy  size  of  these instruments  makes  them  easy  to  use and  play. 
Suspended, it will play with the wind and carry you away with unexpected melodies. Koshi Chimes come in four tuning : Ignis, Terra, Aqua and Aria
Zaphir Chimes, well-known  for  over  more  then  30 years and  appreciated  for  their  quality,  the crystal clear  sound  and  their glowing  colors , are also completely made by hand  in French workshops. With their relaxing  and  harmonizing  sound, these chimes have become known as a wonderful tool for relaxation,  yoga & meditation, Feng Shui, sound-sessions and  other forms of  therapy. 
Zaphir Chimes in beautiful jewel colors are dedicated to the 5 seasons of Chinese Medicine: Spring, Summer, Late-Summer, Autumn, and Winter. We Play Well Together has a special set curated with the corresponding colors for the seasons. And they come individually wrapped to make the perfect present! 
Finally, we have our wonderful line of Kalimbas from Hokema, handcrafted in Germany. Hokema introduced a special line of the B9 Kalimba with four tunings that correspond to the Koshi Chimes! Because these also are in tune with the Zaphirs, you can create "triple sound layering" with a sets of three instruments. They're all based on 432 Hz tuning in similar chord progressions so that the unique sounds blend together. 
Check out these sets of instrument combinations: 
 

 

Zaphir Chime: Late Summer (Sufi) 

Koshi Chime: Water (Aqua) 

Hokema Kalimba: Aqua Tuning

A B D F G  (minor)
 

 

Zaphir Chime: Autmn (Twilight)

Koshi Chime: Earth (Terra) 

Hokema Kalimba: Terra Tuning

B C E F G  (Major)
 

 

Zaphir Chime: Winter (Blue Moon)

Koshi Chime: Air (Aria) 

Hokema Kalimba: Aria Tuning

A B C E G  (minor) 
 

Zaphir Chime: Spring (Crystaltide)

Koshi Chime: Ignis (Fire) 

Hokema Kalimba: Ignis Tuning

A B D E G  (Major)
 

Zaphir Chime: Summer (Sunray)

This Chime Stands Alone! 

(but a kalimba could be tuned to match)

 A B C# E G#  (Major)
 You can purchase any individual chime or Kalimba. To offer the "sound layering" effect described above however, we recommend you purchase sets of 3 that include the Koshi Chime, Zaphir Chime, and Hokema Kalimba that all correspond with each other. This gives you the opportunity to create gorgeous complex sound layering that is perfectly in tune, allowing you to intuitively play with the rhythm and texture that is appropriate for your sound journey, sound meditation, or musical composition. 
Koshi , Zaphir Chimes and Instruments to Add to Them
View All